GIVA GLOBAL INNOVATORS CONCLAVE 2020 – A REPORT
"Future is here. We can't be lethargic and perpetuate the past. It's time that we envision the future in the light of past & present happenings, and make roadmaps that will impact the future. It's crucial that we have to come out of sacred & secular mind-set, fulltime & halftime workers etc., and start preparing missional minded newer workers like business people, writers, filmmakers, media anchors, journalists, industrialists, professionals, educators, politicians and civil servants. I'm grateful for GIVA Conclave 2020 that has provoked my thinking in this area. I'm sure that the missional movements across the world would follow this model in the days ahead", exclaimed one of the participants who was a CEO of a mission organisation.
"This conclave is unique and thought-provoking. It's very different from other Christian programmes. It's an outstanding initiative to recognise and give awards to innovative missional people from various fields. It's going to be a huge inspiration for others to start preparing and placing missional workers in all influential and professional places around the globe." stated another participant.
Both the above feedbacks pretty much summed up the vision behind GIVA Global and its Global Innovators Conclave 2020.
 WHO PARTICIPATED IN THIS CONCLAVE? 
64 leaders and innovative minds from mission, church, business, politics, media, education, Bible college and Christian NGOs were present. 80% of them were below 45 years of age and from different parts of India, Nepal and the USA.
 
 GIVA GLOBAL INNOVATORS CONCLAVE 2020 – WHAT IS IT? 
It's an annual gathering of global missional innovators and leaders from various field to:
Celebrate and honour missional innovators of various fields.

Understand the BIG picture of contemporary global happenings.

Discuss and forge road maps to impact the future world.

Develop long-lasting friendships & relationships across the globe.
 WHERE AND WHEN IT HAPPENED? 
17 & 18 January 2020, Bengaluru, India
 
 WHAT HAPPENED AT THE CONCLAVE? 
BIBLICAL REFLECTIONS:
Both the days started with reflecting from the Bible to learn and take insights to innovate and impact this changed world. It was led by two of the GIVA Directors/Trustees.
Mr Bobby Mathew, CEO of an IT Company, took us through two major instances where David and Paul who innovatively dealt matters in the old and new testament respectively. He highlighted innovative steps taken in the history in science, arts and business. He underscored the urge behind engaging the people, and closed the devotion by highlighting that our present day town halls are arts, business, media and other areas which we should innovatively engage and influence. He pastors a church in Bengaluru.
Dr Kamala Chiranjeevi, CEO of Letha Charitable Trust, shared the Word from Romans 12. She emphasised the importance of our personal life and behaviours to reflect Christ values. She stressed that all sort of works that aim at achieving the Great Commission innovatively should be encouraged, shared, strengthened and partnered effectively. She closed the devotion sharing that we must pray and prepare the right people with many innovative tools.
HEART TO HEART:
Dr K Rajendran, the founder of GIVA Global, emphasised that the world has changed and globalised, and urged the need for fresh thinking and innovation across global missional movements to impact the contemporary world & future. He elaborated the past, present and future of global missional happenings. He described the issues connected to Global North and South. He narrated the contemporary evangelistic challenges, and challenged us to make an impact by redefining mission, missionary, mission field, unreached people, contextual "church", trainings, methodologies and more. He explained us the GIVA dreams, convictions and future goals. In closing, he emphasised the need for preparing future missional workers to impact the nations for the next 30, 50 and 100 years.
GIVA GLOBAL INNOVATORS AWARDS:
The first edition of GIVA Global Awards was launched at this conclave. It's an annual award to recognise and honour missional innovators for their innovative initiatives in various fields across the world. This year we have honoured 10 innovators with GIVA Awards at the GIVA Dialogues Session. The awards were presented by Dr Kamala Chiranjeevi, Dr J Chiranjeevi and Mr Shanmugam Pillai.
Listed below are the awardees for the year 2020:
Mrs Premlatha Samuel – Developing social awareness through street / stage performance & theatre (Media)
Mr Peter Christopher – Making films & documentaries with Christ values
Mr Philip Manickam – Global Missional mobilisation in innovative ways (Global)
Mrs Malsawmi Jacob – Writing Christ valued novels and poetry to the public audience (Media)
Reaching & Influencing the Nations – Redefining Unreached People Groups: Engaging Internationals.
Mrs Cynthia Stephen – Building South Asian nations based on Christ values (Politics & Education)
Mr Vinoth C. – Building nations based on Christ values (Politics)
Mr Pon Nesan Lazarus – Communicating Christ message through Villupaatu (Folklore) to the public audience
Mr Daniel Madapur – Business & Entrepreneurship Efforts (Business / Self Support)
LIFETIME ACHIEVEMENT AWARD:
Mrs Sita Poudel & Mr Resham Raj Poudel – Innovative Church movement (Nepal Gospel Centre) and social work (GLOW) in Nepal since 1970s
GIVA DIALOGUES:
The idea behind this session is to honour the GIVA Awardee with GIVA Award and then to have a conversation with them to know more about their cutting edge innovative initiative. There were 10 GIVA Dialogues of 45 minutes each [First 15 minutes – GIVA Award presentation to the awardee and their speech; mid 15 minutes – Interviewing the awardee; Last 15 minutes – Q&A from the floor]. A brief snapshot of those dialogues:
GIVA Dialogue 1: 
Mrs Premlatha Samuel on Addressing Social Issues through Street/Stage Performance & Acts [Media]


Premlatha Samuel narrated the birth of ARISE, a movement aimed to bring awareness among women and youth about the social issues through street and stage performances in Darjeeling district since 2012. She added that every act of ARISE conveys Christ values in simple and creative ways. Impressed by their stage performances and acts, many schools, colleges, NGOs and others have invited them to perform in their places. She emphasised that a thoughtful decision to shed the traditional way of evangelising people to innovative ways of engaging them has opened broader avenues.
GIVA Dialogue 2:
Mr Peter Christopher on Making Films with Christ Values [Media] 


Peter Christopher mentioned that he realised the importance of the visual medium in his youth, but faced discouragement from mission and church due to the lack of understanding about media. However, having made a short film on a social issue that had gone viral, he felt the importance of creating Christ value-based videos to impact the children and youth and that led to the birth of his company – Edupier – through which he engages schools in Bengaluru and some cities in Tamil Nadu. He added that they have created curriculums for schools and launched it recently. He underscored the necessity for mission and church to make films and documentaries for the general public.  
GIVA Dialogue 3:
Mr Philip Manickam on Global Missional Thinking & Actions [Global] 


Philip Manickam stated that he's passionate about global missions and has recently started The Catalyst – to mobilise people and movements across the world. He highlighted that his job with the Ministry of External Affairs (Indian Government) gave an opportunity to dialogue with leaders and bureaucrats of various nations. This exposure also made him think about initiating missional embassies across the nations to mobilise many for global impact. As a first step, he went to a country and explored innovative missional opportunity – a Business hub. He will be moving to that country and carry out his vision through partnerships. He urged the importance of leaders to have a global mindset & perspective.
GIVA Dialogue 4:
Mrs Malsawmi Jacob on Engaging Public through Novels & Poetry [Media]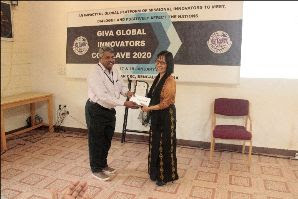 Malsawmi Jacob mentioned that her motivation to write for the general public came from a bitter reality that Christian authors write only for 2.5% of the population (Christians) and failed to engage the rest 97.5% of the population (general public). She highlighted the importance of poems and novels to influence today's world. She mentioned some of her books (novels and poems) and its impact. She urged the participants to engage the public audience through writing literature in all genres with Christ values.
GIVA Dialogue 5:
Reaching & Influencing the Nations – Redefining Unreached People Groups: Engaging Internationals
GIVA Dialogue 6:
Mrs Cynthia Stephen on Influencing the South Asian Nations with Christ Values 


Cynthia Stephen is the founder of TEDS Trust – involved in training, editorial & development services to build nations, especially women and youth based on Christ values. She expressed her journey as the salt & light for Christ through her talents in critical analysis on societal issues and drafting articles on newspapers & social media, involvement in writing books, translating, publishing and distribution, training people especially women for empowerment, given lectures & interviews on various platforms and more. She underscored that her recent stint as a politician has broadened her access to building nations and its people with Christ values and attitude.
GIVA Dialogue 7:
Mr Nesan Lazarus on Communicating Christ through Folklore (Villupaattu).


Nesan Lazarus mentioned that he took inspiration from his father to engage masses in Tamil Nadu, an Indian state, through Villupaatu (folklore). He was overwhelmed with the response from the communities in their keen attention to this classical art performance and committing to respect/follow Christ gradually. He emphasised that this creative approach has made inroads into some communities which wouldn't be possible with traditional ways. In closing, he and his team enthralled the conclave participants with Villupaatu.
GIVA Dialogue 8:
Mr Vinoth C. on Building Nation Based on Christ Values 


Vinoth C – A budding politician and an MBA graduate recollected that he left his studies at a Bible College in six months' time, as it didn't connect him with the real world and needs. He wanted to serve people and build their lives and found politics as the best way. But Church wasn't in a mood to understand the importance of it. With encouragement from his mentor, he joined one of the leading political parties in Tamil Nadu. He is in his mid-20s and is passionate about being the salt & light for the society to show Christ through his political service.
GIVA Dialogue 9:
Mr Daniel Madapur on Business Entrepreneur & Beyond [Business / Self Support] 


Daniel Madapur is an entrepreneur and stated that business offers a broader opportunity to impact people's lives with Christ values, and also to be self-sustained. He started Safe Hands – an initiative to deal with the mental health issues of people, and have helped many people in the Film and Business industries, and engages children and young people at schools, colleges, NGOs and others. Recently he has started a magazine named The Edge in which he publishes the stories of Christian business people to inspire people to involve in entrepreneurship efforts with Christ values to impact communities and nations.   
GIVA Dialogue 10:
GIVA Lifetime Achievement Award:
This prestigious award was given to Mrs Sita & Mr Resham Raj Poudel for their innovative Church Movement (Nepal Gospel Centre) & Social Work (GLOW) in Nepal.
The award was received by Mr Anugraha Poudel and Mr Agaman Paudel, sons of Mrs Sita & Mr Resham Raj Poudel.


Anugraha Poudel and Agaman Paudel shared about their parent's life journey in Nepal: childhood, decision to follow Christ, marriage, initial days of involvement in evangelism, starting of Bible correspondence course that provoked Discipleship training, initiating Nepal Gospel Centre in 1970s and venture into contextual church planting efforts along with Pastoral training. They also started GLOW – an innovative social work initiative among Nepali women. Apart from engaging Nepalese in Nepal, they also work among Nepali Diaspora in other parts of the world. Recently they have started to prepare bi-vocational workers to take the gospel to all parts of the world. As of now, they have established hundreds of contextual churches, trained thousands of leaders, discipled tens of thousands and positively affected hundreds of thousands of people.
GIVA TALK:

A motivational talk on 'Future Workers Care / Membercare for Global Innovators' was delivered by Mrs Pramila Rajendran.
GIVA PRAGMATIC SESSIONS:
Three breakout sessions were held. The idea is to offer pragmatic approaches/steps to understand and practically involve in the areas of influence: business, media, and politics. A brief summary of the 3 breakout sessions:
Session 1: How to start and run a business?
Led by Mr Bobby Mathew & Mr Ralph Benjamin.
The session started with Mr Ralph Benjamin talking about how businesses make an impact and the advantages and opportunities that Christian business people have to impact communities. This was followed by Q&A and questions related to the operation and related challenges were raised and discussed. Models ranging from Tent-making to Business as Missions (BAM) were discussed. In closing, there were discussions on how the GIVA Business Institute can further the learning and networking of the Christian business community.
Session 2: How to write a book? How to make a movie?
Led by Mrs Malsawmi Jacob, Mr Pradeep & Mr Peter Christopher.
Those interested in writing gathered together and participated in a few practical exercises related to writing and creativity. It was a casual conversation about the importance of film, writing, poetry, and the arts. Mr Pradeep spoke about the impact that can be made in the publishing Industry through writing stories for a variety of mediums. Mr Peter spoke about how writing is significant for planning a film and making a movie. Mrs Malsawmi Jacob spoke from her experience as an author and the kind of diligence and hard work that is needed to hone one's skill. The discussion ended with giving the participants an idea of what the GIVA's Writers Institute and GIVA Film Making Institute will cover this year.
Session 3: How to play a role in politics?
Led by Mrs Cynthia Stephen & Mr Vinoth Kumar
The session started with Mr Vinoth explaining his experiences in joining the politics. Then Mrs Cynthia Stephen elaborated on her journey in Politics. Some of the participants also chipped in and added their own experiences. Later they discussed how to have a career in politics. They felt that we should be aware of the current political news, history of the nation, political parties and their ideologies, joining one of the parties or starting one, and taking part in their activities, contesting in local elections and moving forward further. While discussion they also felt the importance of maintaining Christ ethos in the midst of challenging circumstances and serve people as Christ would have served and build nations. In closing, they have shown interest to be a part of GIVA Politics & Leadership Institute to know more about politics and having a career in it.
GIVA ROUNDTABLES:


Aimed to foster meaningful relationships among participants in their roundtables and generate a practical way forward in the light of the sessions held that day. Each table came up with a roadmap as a team to involve in certain innovative missional work in the year 2020.
 RESPONSE FROM THE PARTICIPANTS 
ABOUT THE CONCLAVE 2020:
Many admired that this conclave was very different from other Christian programmes, as much time was spent on dialogues, interviews, and Q&As. They felt that awardees deserve this recognition and their innovative initiatives need to be replicated. Some mentioned that the Biblical reflections on both the days made them commit to innovative engagement of people. Many were challenged by Dr K Rajendran's Heart to Heart session and vouched to think broader and act upon on having future missional workers. Some enjoyed the Breakout sessions as it offered practical steps to get involve and produce an impact in media, business, and politics. Some have made use of the Roundtable sessions as their newer friends circle. A few were touched by the final Prayer for Innovation time that has helped them to accept the newer thoughts and ideas they heard at the conclave and adapt to it.
 
WHAT HAS INSPIRED THEM?
The participants were inspired by GIVA Vision and its global perspectives and reach. Some were touched by GIVA's ethos of treating all ages, experiences, and gender with equal respect and dignity. Many mentioned that the talks of 10 GIVA Awardees were admirable, as they highlighted their challenges, issues, adapting to the change and innovating, teamwork and the eventual impact. Some were amazed to see many younger people with the vision for the future. Informal conversations during lunch and coffee breaks were incredible, mentioned by a few. Most of them top rated Q&A sessions as it helped them to understand the context, challenges, innovative strategies and more. Some were moved by Innovative care for workers.
 
WHAT INNOVATION WILL THEY IMPLEMENT IN NEAR FUTURE?
Spread GIVA vision of developing future missional workers / Global Leaders in the churches and mission organisations.

Start businesses to influence the nations and to be self-sustained.

Write stories based on Jesus' teachings for the public audience.

To become a stepping stone for budding talents in various fields

Christian young people – Career Guidance as young as possible

Involve in professionals' networks

Encourage Christ-followers to play an active role in politics

Guide my children to be innovators for Christ

Engage International students in my city to start with to influence nation/s

Business and Tentmaking initiatives in other parts of the world.

Will increase my focus on internal and international migration and diaspora

Try to initiate alternative Bible colleges and training that will produce impactful newer workers

Will work on caring for my workers

Will expose many younger people to this GIVA forum

Will work on newer contextual churches to address the importance of incorporating people from other faiths/peoples.

Will enact stage performances and theatre based on Christ ethos at schools / Bible Schools to start with.

Communicating Christ message through short films.

Engaging communities through traditional art forms like music, dance, and others

Sharpen my understanding of global happenings / global vision & build global mind-set

Will work on preparing writers, proper anchors, and journalists
SUGGESTIONS:
Increase women representation.

GIVA Global to conduct the Innovators Conclaves in different parts of India & other countries.

GIVA ideas should be publicised more widely to reach and educate various stakeholders.
 PRAYER FOR INNOVATION 
Randomly participants were selected to pray for the GIVA Awardees and for their sharing to be replicated contextually, towards the end of GIVA Dialogue sessions. Both the days started with a prayer from participants.


Mr Shanmugam Pillai led the prayer for GIVA Movements towards the end of the conclave requesting the participants to:
Thank the lord for gathering them at the conclave

Give guidance and strength to implement the matters that inspired them

Pray for GIVA and its team

Pray for each other

Pray for the mammoth need of future missional workers.
 CONCLAVE 2020 EXTRAS 
Networking Time: creating newer friendships and partnerships were consciously encouraged in GIVA gatherings. Lunch, Supper and coffee breaks were planned to give enough space and time to each other and plan for future collaboration.

Food & Beverages: The food was delicious. Participants enjoyed all the meals and appreciated it.

Display Stalls: There were 7 display stalls where participants promoted and sold their products and services.

Second-hand missional bookstall: Some of the old books of some of our leaders were kept for sale. It attracted many participants.

Eco-Friendly Campus: Participants enjoyed walking around this serene and beautiful campus filled with huge trees, floral plants, open spaces, and herbal nursery during the breaks. And the residential participants enjoyed their stay with a feeling of being in a mini forest.